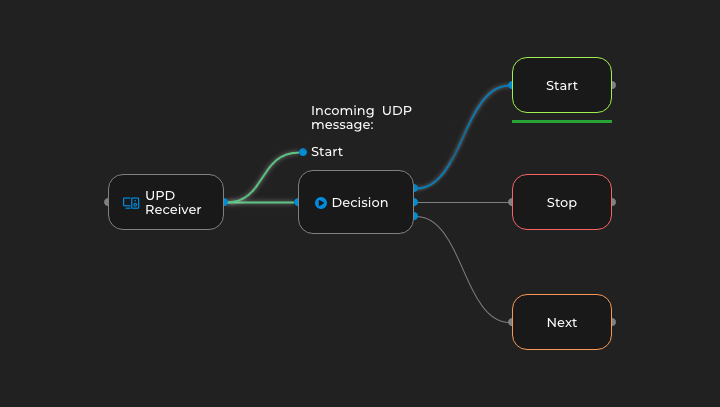 The simple and flexible node programming system makes UNIVERSE intuitive to handle. Timeline and logic blocks helps to tackle your challenges fast. If your project becomes more complex, use variables and custom scripting to reach your goals.
UNIVERSE comes with a web interface to give you acres to your stages from every device with a web browser. Worldwide access is possible with static IP.

To customize the interface UNIVERSE provides you with a wide range of tools to adjust the appearance of your controls and match the required CI guidelines.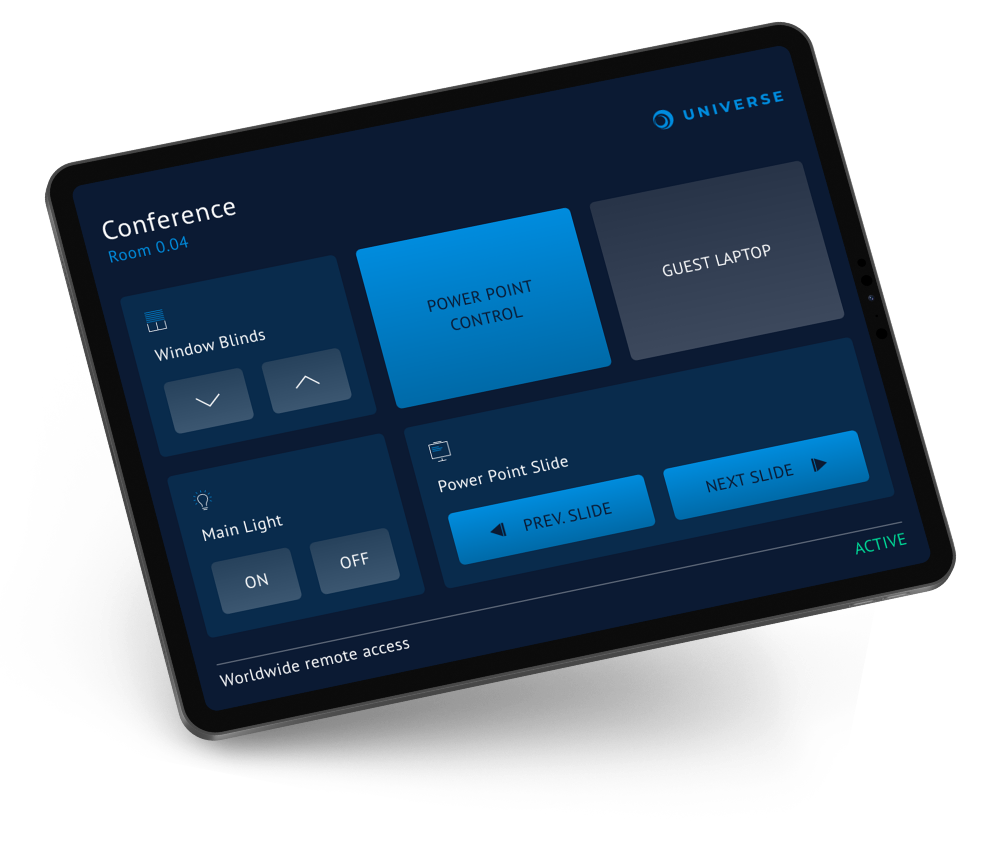 How to use these FEATURES?
UNIVERSE provides easy and fast control for all common devices in live events and fixed installations.
If your device is not supported yet, we would be happy to make you an offer for integration.
AV Playback
Brainsalt Playmaker (UDP)
DCP/IMS
Disguise
Doremi
Ioversal Vertex
MXWendler
MadMapper
Millumin
Mitti
Modulo PI Player
Pandoras Box
Picturall
Pixera
Playback Pro Plus
Playdeck
QLab
Renewed Vision ProVideoPlayer
Resolume Arena V.5/V.6
Sonoran Coyote
StudioCoast vMix
VLC Player
Ventuz V3/V4
Watchout
Wings
AJA Ki Pro
Analog Way Aquilon
Analog Way LiveCore/Ascender
Analog Way Midra 4K
Analog Way Orchestra
Analog Way Pulse²
Analog Way VIO 4K
Barco Encore 1/2
Barco Eventmaster
Barco ImagePro HD/2
Barco PDS
Barco ScreenPro
Blackmagic ATEM
Blackmagic Hyperdeck
Calibre HDQ 625/725
Christie Spyder X20/X80
DEXON USA DIVIP-Pro
Extron IN 1606
Magnimage 4000
Novastar VX4s/VX6s
RGBLink Venus X1
Roland V-1HD/40HD/60HD
/600UHD/800HD
Roland XS-1HD
tvONE C2-2X55
AJA Kumo
Barco DVI MatrixPro I/II
Blackmagic Videohub
DEXON USA DIMAX-Pro
Extron DXP/CrossPoint/SMX
Geffen DVI
IDK FDX-32
Kramer VS42/44 UHD
Lightware LW2/LW3
Ponderosa HD3G
AJA Helo
EPIPHAN PEARL 2
Liminal ZoomOSC
Magewell Ultra Stream HDMI/SDI
Matrox Monarch HD/HDX
NewTek Studio Monitor
NewTek TriCaster 2
OBS Studio
Panopto
AV TC30
BirdDog IP Camera
IP CAMERA (VISCA)
LTC
Panasonic Dome Cam AW-HEx/UEX
Rosendahl Mif4
Sony BRC/SRG IP Camera
Tech Ministry ProTally
TSL UMD 3.1/5
Allen&Heath Qu-Pac
Allen&Heath SQ5
Allen&Heath dLive
Behringer Wing
Behringer X32
Beyerdynamic MDC-D
biamp Audia DSP
biamp Tesira
Bosch DICENTIS Wireless
Bosch DNC
d&b 10D/30D/D20/D80 (OCA)
Fohhn Net
Shure Axient Digital
Shure DCS 6000
Shure MXC
Soundcraft Ui Series
Soundweb London
Televic D-Cerno
Yamaha Rack CL/QL
Yamaha Rack TF
Chamsys MagicQ
Enttec DMX Pro
Enttec DMX Streamer
Enttec Open DMX
KissBox DMX
Nicolaudie Slesa-UE7
Visual Productions Cuety
Multi Display Control Protocol (MDC)
NEC Display
Orion OPM
iiyama ProLite LE/LH/TF
Barco F50/Orion/CT/HD20/
HDF-W26/RLM
Christie
Epson
NEC
Panasonic
Projection Design
Communication
Ping
System
Wake on Lan
Feig RFID Reader
KissBox IO3CC/IO8CC
Moxa ioLogic 12xx
Numato GPIO
Phidget Digital Input/Output
Phidget Encoder
Phidget IFKit 0/16/16 | 8/8/8
Phidget IR
Phidget RFID
Phidget Voltage Input
Phidget Voltage Ratio Input
Serial Input Sensor
Behringer X-Touch
Joystick/Gamepad
Skaarhoj Raw Panel
Stream Deck
Yamaha MTX 3/5
KNX
DALI
Philips Hue
Zumtobel Litecom
RTTrPM (BlackTrax)
NaturalPoint OptiTrack
Panasonic AW-SF Auto Tracking
TUIO
ALLNET ALL417
blink(1)
Depili Clock-8001
Gude Expert Power Control (Telnet Raw)
Internal Timer
Irisdown Countdown Timer
Octopus Listener
Punchlight Lamp
Rutenbeck TCR IP1/IP4
Stage Timer
VICREO Hotkey Listener
Advanced Media Protocol (AMP)
ArtNet
MIDI
Modbus
MQTT
OSC
PJLink
Serial
SSH
TCP
UDP
Web Request
You can download UNIVERSE for FREE to get started with the software and test it extensively. It allows you to program and develop a project without any restrictions.*

And if you are satisfied with UNIVERSE FREE – have a look at our shop to get the best fitting license.

There is just one Windows installer for every UNIVERSE Version [FREE, LITE, STD, PRO].**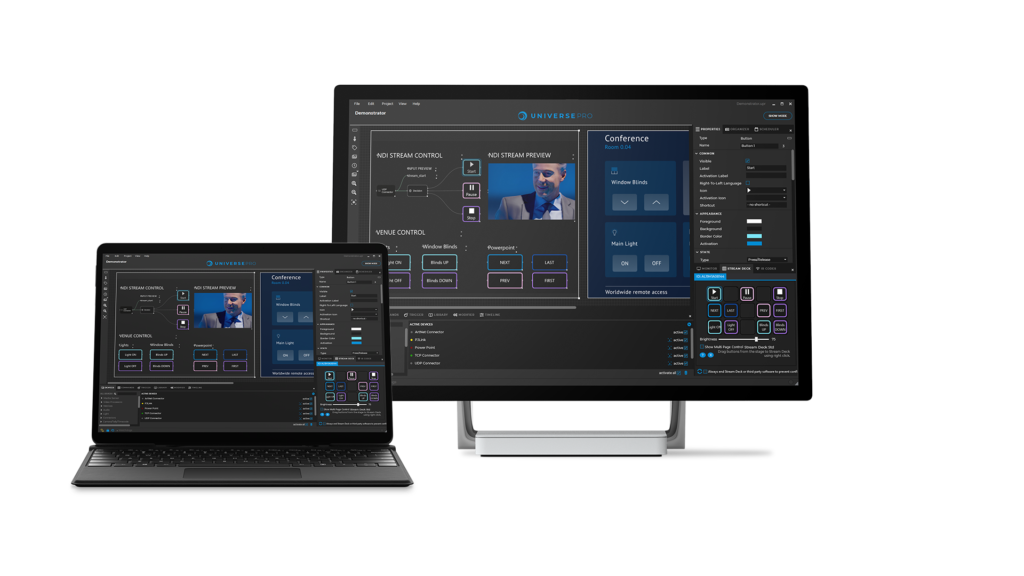 *After 5 minutes UNIVERSE will block any incoming and outgoing connections but you can still work on your project.
**UNIVERSE supports the current Windows Version. 
SATELLITEs are additional tools that come with UNIVERSE free of charge. They enable you to remotely control and monitor other machines on the network, or to navigate through Powerpoint presentations on remote machines.
SATELLITE CONTROL gives you control over remote Windows machines. It lets you monitor processes and system health parameters, execute mouse and touch events and configure watchdog functions.

With the help of the SATELLITE CONTROL you can boot up your whole UNIVERSE system remotely.
SATELLITE POWERPOINT remotely controls Microsoft Powerpoint 2010 or newer. You can navigate through the slides and return information about the current presentation to UNIVERSE for futher processing.
If you need a special feature that is
not included yet. Feel free to contact
us. We will customize UNIVERSE for
your individual case.